Golden Bay Flights
4 Bikes & 4 Passengers
Fly to the following destinations!
Heaphy Track
Brown Hut
Karamea
Marlborough Sounds
Canaan Downs
D'urville Island

Click here for more info.
Click Here to
book online
Golden Bay Flights:
Heaphy Track
Abel Tasman Track
Wangapeka Track
Farewell Spit
Cape Farewell
Tasman National Parks
Wainui Bay
Takaka Town
Plus much more
Contact Details
Email: remoteadventuresflights@gmail.com

Phone: 03 525 6167

Freephone: 0800 150 338.
Welcome to Remote Adventures Scenic Flights
---
Scenic Flights
"Come Fly with Mit or Jim" in their 5 passenger Cessna 185.
He has years of flying experience over the area. High wings give excellent viewing. An opportunity to open a window makes ideal photography.
Experience the flights now! Click here to view the video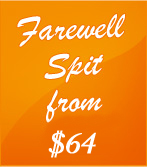 Latest Update: Heaphy Track will be opened for Mountain Bikes by May.
Click here for more information.
Best Rates Flights to Heaphy Track, Karamea, Takaka

Pay on site or on the day!

Unobstructed Great Views with Cessna Plane High Wings

Personalized Service!

Fly Directly to and from Brown Hut, Heaphy Track Start


Remote Adventures Scenic Flights is a well established business run by Jim Larsen and offering a range of scenic flights over the beautiful Golden Bay area, and now also further afield to Paraparaumu, Wanganui and Taranaki.

Jim's Heaphy Track Transport service connects with more centres and will fly with just one passenger if requested. He has flights between Takaka, Karamea, Nelson, Motueka and can arrange shuttle connections if required.

Jim has been flying trampers to the Heaphy Track connection centres for the last 10 years including a connection to the start of the track at the Collingwood end. He is the only fixed aircraft operator that can do this. He flys a Cessna 185 aircraft which has high wings and windows all round which gives passengers excellent viewing.

He has built up an excellent reputation for consistency and safe flying with the communities of Golden Bay & Karamea, and with both information sites in these centres and the Department of Conservation. He also has a high ranking for safety with the Civil Aviation Authority. He resides in the only house adjacent to the Takaka airport including passenger reception.

To make a booking Click Here

For more information, email remoteadventuresflights@gmail.com or call Mit or Jim on 03 525 6167 or 0800 150 338.

Please leave a message if phone not answered. Messages are checked regularly.

Prices are all per person. Prices subject to change without notice. All prices are inclusive of GST. We have no hidden costs.
Designed and Created by Webquest ltd, in conjunction with Meteor Printers Ltd Site Map